Costa Rica Tree Houses – 12 Places to Stay
Disclaimer: This article may contain affiliate links. This means that if you click on a product or service link and make a purchase, Costa Rica Vibes may earn a commission. This commission comes at no additional cost to you and helps us to keep running this website. Thank you for your support!
Have you always dreamed of staying in a treehouse? Do you want to sit with binoculars and watch monkeys swinging from the trees in front of your bedroom? Did you dream of living like the Swiss Family Robinson as a child?
Well, in Costa Rica there are 12 tree houses you can stay in during your vacation for the ultimate unique accommodation experience!
Let's go through each one!
Rancho Pacifico
Location
The Vibe
The vibe here is luxury relaxation with tons of adventure nearby. The staff here is amazing and will go above and beyond to make your stay amazing.
This is an adults-only resort that is perfect for honeymoons, romantic getaways, or remote working vacations.
Amenities
– A-la-carte breakfast
– Access to the fitness center
– Free parking
– Wifi
On-site activities
Relax in the pool, enjoy an amazing spa treatment, read a book and enjoy the stunning ocean views, and grab a delicious cocktail at the bar
Off-site activities
The staff at Rancho Pacifico will be happy to organize activities for you.
There is so much to do in the area, but some of the popular activities include; whale watching tours, guided hikes, ATV tours, zip lining, hiking at Nauyaca waterfall, surfing, and deep sea fishing.
Rooms
The property has a few different accommodation options but we suggest the rainforest treehouses for amazing jungle views.
Dining
There is an excellent restaurant located on the property that serves five-star cuisine. Every evening there is a set four-course menu available.
A delicious a-la-carte breakfast is included in the room rate, but other meals and drinks are not included.
Reservations
We think very highly of this resort. Everything here is perfect and you can't beat the location. It is the perfect mix of jungle with incredible views of the Uvita whales tale.
We have partnered with Rancho Pacifico to bring you a 10% discount on your room rate. To use the discount, book directly through the Rancho Pacifico website and use the code: VIBES10
Lapa Rios
The accommodations here aren't exactly treehouses, but they are built into the side of the hill so you will be level with the trees and every room has great views of the jungle or Pacific coast.
Location
Puerto Jimenez
The Vibe
Lapa Rios is located on a 1,000-acre nature preserve. If you are looking for a luxurious eco-lodge filled with wildlife, near a beach, and near Corcovado National Park, this is a great option.
Children over the age of six are welcome here.
Amenities
– Breakfast, lunch, and dinner are included daily.
– Guided property tours
– Access to the pool and property
On site activities
Relax in the pool, get an in-room spa treatment, explore the property on your own or with a guided tour, go birdwatching, take a night tour, learn about medicinal plants in the area. So much to do!
The beach is located just below the property. You can easily walk there (but the hike back up is a bit much) or they will happily drive you down and set up beach chairs for you.
Off site activities
There are tons of things to do nearby from exploring the Corcovado National Park to sport fishing. The wonderful staff at Lapa Rios will be happy to set up any tours for you.
Rooms
This is a small lodge with only 17 rooms.
There are three types of bungalows available at Lapa Rios:
Deluxe Bungalows- Sleep up to 4 guests. The bungalow has a nice outdoor deck with great views. Not that these bungalows do not have AC.
Premier Villas – Large space with bed, living room area, indoor/outdoor bathroom, and large deck. This option can accommodate five people.
Lapa Villas – The most luxurious option, this villa has a bedroom, living room, large deck with small infinity pool, and indoor/outdoor bathroom. This option can accommodate five people.
Just note that the internet is accessible in all rooms by fiber optic cable, but wifi is available in the main building of the resort.
Dining
There is one restaurant located on the property where breakfast, lunch, and dinner are served daily. This is included in the room rate. Alcoholic beverages can be purchased.
The restaurant is happy to accommodate any allergies or health requests.
It is also possible to attend food demonstrations or organize a private romantic poolside dinner.
Topos Tree House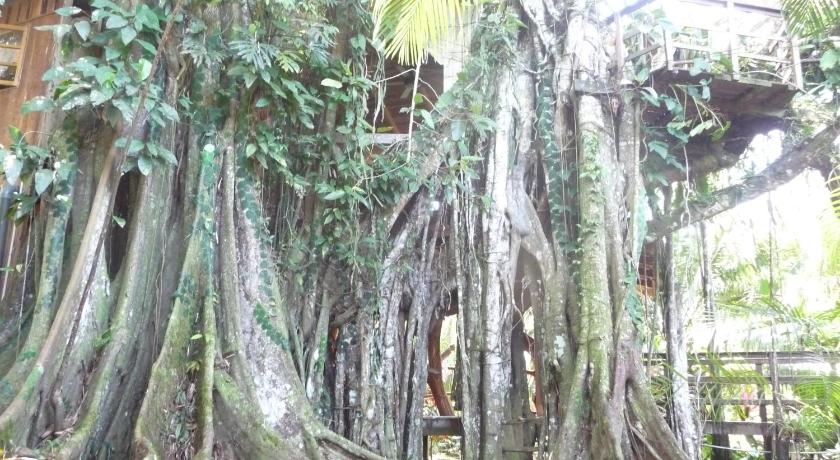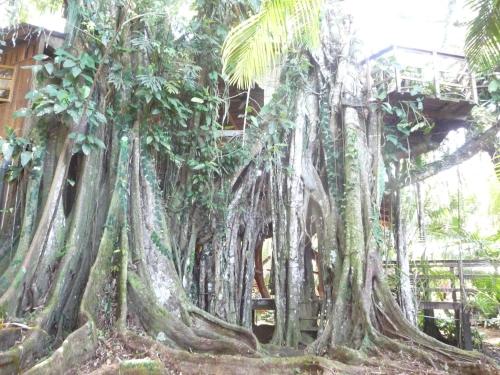 The treehouse is set in a giant rubber tree. It is one of the most unique accommodation options I have ever seen.
Once you enter the property you will cross a bridge over a swampy area to get to the large tree and house.
Location
Features
The house features a fan, mosquito netting, a living room area, a kitchen, two bedrooms, and a bathroom with a shower. The home can sleep four guests.
Nearby Activities
Hike at Cahuita National Park, relax at the beach, or take a day trip to Puerto Viejo.
Treehouse Pilan Pavones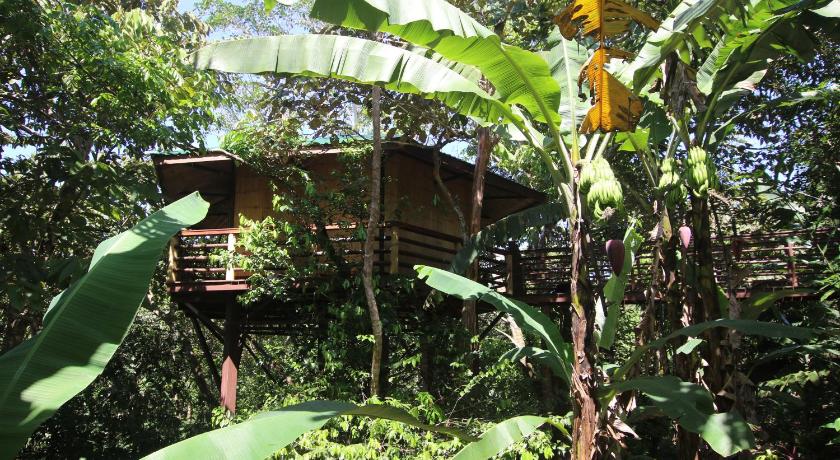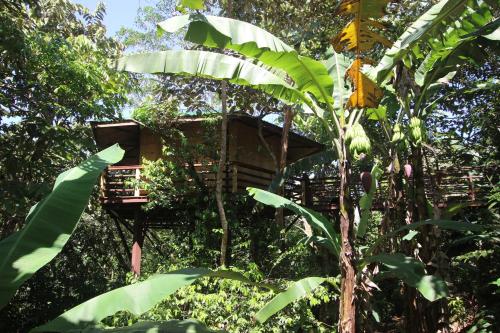 This tree house is actually a house built on a high platform among the trees.
Location
Features
This treehouse experience can sleep two guests in a double bed. There is a private bathroom, outdoor kitchen, and access to the nice outdoor pool. You will likely see tons of birds here. So, bring your binoculars!
Nearby Activities
Pavones is less than 10 miles away. This area is one of the best-surfing destinations in the world. There is also some great hiking nearby.
Unique, Ocean-view Costa Rica Treehouse
Location
Near Nosara
Features
This elevated home can sleep up to six guests in two bedrooms. It has an open-air feel to it and is recommended that only children over the age of 7 years old stay here. The home also has a large yoga/ meditation platform.
Nearby Activities
This is a nice place to just chill, but you can also take day trips to Nosara for surfing, Ostional for seeing sea turtles, and Playa Avellenas for surfing and enjoying the beach bars.
Onca Tours & Tree Houses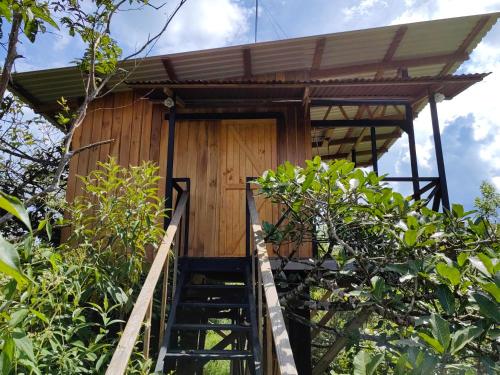 Location
Near Rio Celeste
Features
These treehouses have a small kitchenette, dining area, and balcony. Breakfast is also included in the room rate. This is a nice area because there are mountains nearby which you can view from your balcony.
Nearby Activities
The best thing to do near here is to go hiking at Rio Celeste and enjoy the bright blue water and waterfall.
Cabaña Treehouse Mountain View
Location
Heredia Province
Features
This Costa Rica tree house is more like a wooden house on a platform, but the interior is what makes it so unique. Everything is made from wood and the views are amazing.
The home offers; one bedroom, one bathroom, a dining area, a fully equipped kitchen, and a patio with river views.
Nearby Activities
This is a good jumping-off point for coffee farm tours and hiking at volcanoes.
Nature Observatorio in Manzanillo
This circular home is located 25 meters up in a tree.
To get here you will first need to hike with your guide for 45 minutes through the jungle You then need to host yourself up with a rope system.
Yeap, this is truly a once-in-a-lifetime adventure!
Location
Features
The home features two bedrooms with queen size beds, solar panels for LED lights, an eco-toilet and a rainwater shower.
Breakfast, fruits, drinks, and snacks are included in the room rate.
There isn't a kitchen so we suggest adding on the VIP package which is $30 per person. This includes the special delivery of a hot dinner with one bottle of wine per couple right before sunset.
Nearby Activities
There is some nice hiking nearby, but you most likely won't be going anywhere once you are here because it is so remote. So, we suggest just hanging out in your tree and enjoying the relaxing environment.
Tree House Lodge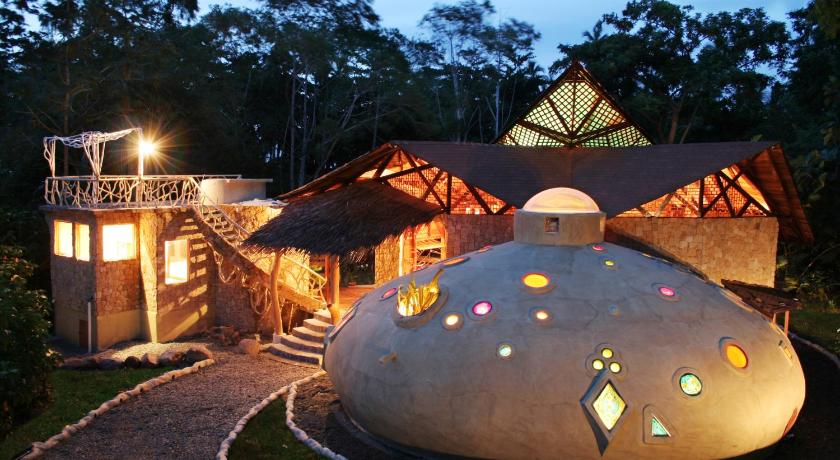 This place is an entire tree-house hotel!
Location
Near Manzanillo on the Caribbean Coast
Features
There are various room options here which can sleep up to six guests. All rooms have a seating area and private balcony. There is also a shared hot tub, garden area, and sun terrace.
One of the accommodation options here is actually an old school bus, if you would like to try that out instead.
Nearby Activities
We suggest going beach hopping, checking out Manzanillo, taking a day trip to Puerto Viejo, or trying surfing.
Santa Juana Lodge & Nature Reserve
This elevated hotel is beautiful and well-maintained. It is a little less rustic than some of the other places on this list. So, if you are worried about tons of bugs, this might be a more tamed-down version for you.
Location
The hills above Quepos
Features
Your stay includes breakfast, lunch, and dinner.
All units have a private bathroom, refrigerator, and coffee machine. Some units have a balcony or patio.
Keep in mind that you will need a 4×4 to access the property
Nearby Activities
We suggest going hiking, zip-lining, or fishing
7-Level Treehouse Near Corcovado
There are actually two treehouses on this property. Both listings are:
Location
Near Puerto Jimenez
Features
The homes are both completely unique with a lot of small details. Both homes can sleep up to 14 guests. One house has a pool. And both homes have kitchen facilities, living rooms, and open-air bathrooms.
Nearby Activities
We suggest taking a day trip to Puerto Jimenez, hiking at Corcovado National Park, and visiting the beaches.
Kanku Sho Chalet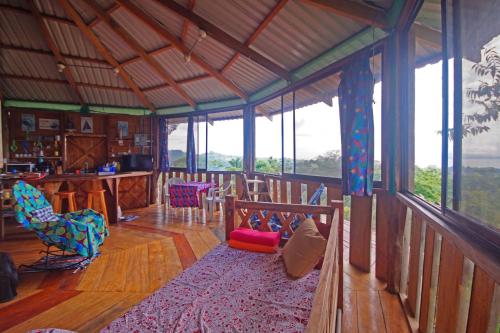 This is a remote platform home in a spherical shape. Just note that this is an open-air home.
Location
Near Pavones
Features
This house features one bedroom, one bathroom, air conditioning a flat-screen TV with satellite channels, a fully equipped kitchen, and a patio with garden views.
Nearby Activities
Go hiking, or take a day trip to Pavones to enjoy some surfing.
Map of Tree House Hotels
Here is a map of all the locations. Just click each one for a link to book it.
Treehouse Restaurants
Bonus: If sleeping in tree houses in Costa Rica is not your thing, you can at least eat in one! There are two places we know of. They are…
Pizza tree is in a remote area of the country on the Nicoya Peninsula. If you are in the area, you can't miss it. There are signs all around the area directing you to this unique place where you can eat pizza in a treehouse.
If you are in downtown Monteverde you will see this place. I mean, it's kind of hard to miss a giant treehouse in the middle of the town.
We don't find the food to be that great, but definitely at least come here for a drink and to enjoy the experience.
Things to Note About Costa Rica Treehouses
– Most of the treehouses we listed are in very remote areas. That means there might not be a whole lot to do nearby. We suggest this if you would like to relax in the jungle and look for wildlife. If you want a more action-packed vacation, just pay attention to the location before booking.
– The main roads in Costa Rica are paved and well-maintained, but some of these treehouses are on steep dirt roads. If you plan to rent a car (which we definitely suggest), ask your treehouse hosts if you will need a 4×4 vehicle.
Adobe Rent-a-Car
10% discount for Costa Rica Vibes readers
Free second driver
0% deductible on Liability Protection Insurance
Excellent customer service
New fleet of well-maintained vehicles
– A lot of these places are not only remote but also open-air. That means bugs might be something you will have to deal with. The resorts we listed won't have this issue, but any place that is completely open-air will definitely have more critters crawling around.
Do you know of any other cool treehouses in Costa Rica? Have you ever stayed in a treehouse? Tell us all about it in the comments section!
You Might Also Like:
Costa Rica Travel Details: What You Need to Know
🚗 Should I rent a car in Costa Rica?
Having a rental car will give you the most flexibility when traveling in Costa Rica. This will allow you to visit more off-the-beaten-path destinations and will allow you to take fun day trips on your own.
Save 10% Plus Other Perks with Our Adobe Rental Car Discount
☀️ Should I buy travel insurance for Costa Rica?
Yes, travel insurance is always a good idea. It is not just for illness or injury, but also lost luggage, delayed trips, and more!
We like Heymondo for Costa Rica travel insurance.
✈️ What is the best way to book a flight?
Usually, we have the best luck finding great prices with Skyscanner. Check for flights to both San Jose Airport (SJO) and Liberia Airport (LIR).
🛏️ What is the best way to book my Costa Rica hotels?
We highly suggest Booking.com for hotel bookings and typically use VRBO for Costa Rica vacation rentals.
🗣️What is the main language in Costa Rica?
The main language in Costa Rica is Spanish. Most people working in tourism speak at least some English.
💰 What is the currency in Costa Rica?
The currency used in Costa Rica is the Costa Rican colón (CRC). However, the US dollar is widely accepted in most tourist areas
🌴 Is Costa Rica safe?
Generally, Costa Rica is considered safe for tourists. However, like any travel destination, it's best to use caution and be aware of your surroundings.
🛂 Do you need a passport to go to Costa Rica?
Yes, Costa Rica is its own country. You will need a passport to visit.
Hi! We're Thomas (the German) and Sarah (the US-er)
We met in Virginia, moved to Germany, and since 2016 we have lived in sunny Costa Rica.
It was a spontaneous decision to move here, but it was the best decision!
Now we spend our days roaming the country to bring you the very best in Costa Rica travel here on Costa Rica Vibes.
Sarah is the writer. Thomas is the one keeping it all together.
Want the whole crazy story?

Sarah McArthur
Sarah McArthur is the co-founder and main writer of Costa Rica Vibes.
She is originally from the United States but has lived in sunny San Jose, Costa Rica since 2016. 
She has traveled all over the country and now considers herself a self-proclaimed Costa Rica travel expert. 

Want the whole crazy story?