Adult Only Resorts in Costa Rica – 7 Great Places
Disclaimer: This article may contain affiliate links. This means that if you click on a product or service link and make a purchase, Costa Rica Vibes may earn a commission. This commission comes at no additional cost to you and helps us to keep running this website. Thank you for your support!
Costa Rica is home to seven adult-only resorts that stand out as the perfect places to relax in luxury while experiencing a mix of jungle and beach paradise.
Maybe you are a honeymooning couple, a couple needing a little break from the kids, a small group of friends looking for a nice getaway, an all-girls or all-guys trip etc. Whatever your situation, we created this guide to help you find the perfect place for you!
This list includes Costa Rica adult-only resorts at different price points and for different interests. There are even all-inclusive adult only resorts if you would prefer that.
Alright, on to the guide!
Rancho Pacifico
Location
The Vibe
The vibe here is luxury relaxation with tons of adventure nearby. The staff here is amazing and will go above and beyond to make your stay is perfect.
This is an adults-only resort that is perfect for honeymoons, romantic getaways, or remote working vacations.
Amenities
– A-la carte breakfast
– Acess to fitness center
– Free parking
– Wifi
– Personalized service to help you plan your perfect vacation
On site activities
Relax in the pool, enjoy an amazing spa treatment, read a book and enjoy the stunning ocean views, grab a delicious cocktail at the bar
Off site activities
The staff at Rancho Pacifico will be happy to organize activities for you.
There is so much to do in the area, but some of the popular activities include; whale watching tours, guided hikes, ATV tours, zip lining, hiking at Nauyaca waterfall, surfing, and deep sea fishing.
Rooms
The property has a few different accommodation options that include luxury villas, rainforest treehouses, and modern suites.
There is a one, two, and three-bedroom villa available and each one has a small private pool.
Dining
There is an excellent restaurant located on the property that serves five-star cuisine. Every evening there is a set four-course menu available.
A delicious a-la-carte breakfast is included in the room rate, but other meals and drinks are not included.
Reservations
We think very highly of this resort. Everything here is perfect and you can't beat the location. It is the perfect mix of jungle with incredible views of the Uvita whales tale on the Pacific coast.
We have partnered with Rancho Pacifico to bring you a 10% discount on your room rate. To use the discount, book directly through the Rancho Pacifico website and use the code VIBES10
Nayara Springs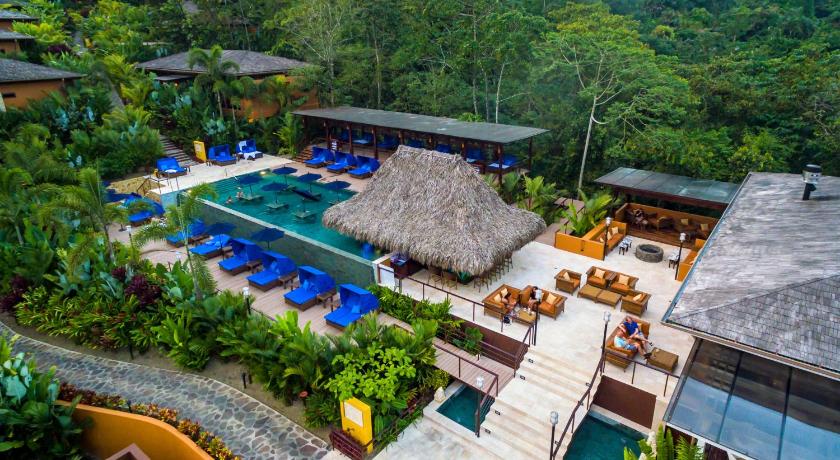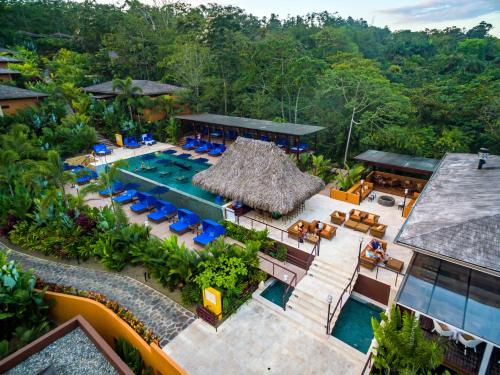 Location
La Fortuna
The Vibe
Adult- only resort that is focussed on a mix of relaxation and adventure. Nayara Springs is connected to its sister property, Nayara Gardens.
Amenities
Breakfast is included in the room rate, free wifi is connected throughout the property, free minibar
On site activities
Daily yoga, hiking trails, a tropical garden to explore, spa treatments, pool relaxation, fitness center
Off site activities
La Fortuna is the perfect adventure destination.
We suggest visiting the La Fortuna waterfall, going zip-lining, taking a chocolate tour, and checking out the hanging bridges with an impressive view of the Arenal Volcano.
Rooms
All rooms here are designed for two guests. Each room has a private plunge pool fed by mineral hot spring water. This is a small resort with only 16 rooms.
Dining
There are two restaurants on the property as well as the chance to enjoy private dining. The Amor Loco restaurant has a unique feel to it with all purple velour chairs and dark paneling. It's really fun!
Breakfast is included in the room rate.
Kura
Location
In the hills above Uvita
The Vibe
Kura is a great honeymoon option. This resort has only eight suites, so they offer a very intimate and highly level of service to every guest.
Amenities
Round Trip Transportation from Uvita to Kura
Daily transfer to and from the beach
A signature welcome cocktail upon arrival
Daily gourmet breakfast service
Ipads in every room and high speed wifi
Concierge service for trip planning
Full use of the facilities including the infinity pool and sky lounge
Daily house keeping and evening turn down service
On site activities
Kura offers meditation classes, cooking classes, and cocktail making classes. Relaxing by the infinity pool is also a popular thing to enjoy here.
Off site activities
The Uvita area has some really fun things to do. A few of our favorites are; hiking at Nauyaca Waterfall, walking along the beautiful beaches, visiting the whale's tail, and taking a whale-watching tour.
Rooms
There are three room options at Kura. These are Junior Suites, Infinity Suites, and Master Suites. All rooms include balconies with mountain or sea views. The master suites all have private splash pools.
Dining
There is an excellent restaurant located on the property. The menu offers a variety of options from vegetarian to fish to meat. They are also always happy to accommodate any dietary restrictions or allergies.
Secrets Papagayo
Location
This beach resort is located on the Papagayo Peninsula near the Liberia International Airport.
The Vibe
This resort is a lot larger than most of the other places on this list with over 200 guest suites. If you have ever stayed at a Secrets resort before, you somewhat know what you can expect.
Everything here is top notch, clean, modern, and well organized. You will definitely have a great visit.
If you want a party, tons of activities, beach access, excellent restaurants, this is the perfect place for you. However, if you are looking for an intimate setting, this is not it.
Amenities
Secrets Papagayo is one of the only Costa Rica all-inclusive adult-only resorts with unlimited food and drinks. Some other amenities include; two pools, a fitness center, housekeeping, air conditioning, and more!
On site activities
Relax and pamper yourself at the spa, enjoy the evening entertainment, play some volleyball on the beach, work out in the fitness center, enjoy a coffee or rum tasting, take a cooking class.
Off site activities
The resort will be happy to organize off-site activities for you including mountain biking, canopy tours, deep sea fishing, and catamaran tours.
Alternatively, you can organize activities yourself. We like using Viator to book our activities. Here are a few of our favorites that include transportation from Secrets Papagayo.
Rooms
There are multiple room options including upgraded experiences for Hyatt Preferred Club Members. All rooms include a balcony or terrace.
Dining
There are seven restaurants and five bars on the property.
As I mentioned above, this is an all-inclusive resort so all food and drinks are included in your booking rate.
There is also the option of 24-hour a day room service.
All of the food (and drinks) here are top-notch.
Jardin del Eden
Location
The Vibe
This is an adult-only beach resort located directly in Tamarindo. It's a good option if you are looking for a more affordable (but very nice) resort experience that is peaceful, but also located right next to a ton of action.
Amenities
Breakfast and dinner are included in the room rate, there is a concierge who will help you plan day activities or transportation, and there are two pools.
On site activities
Relax in the tropical pool, enjoy the surrounding gardens, walk the short path to Pacific Ocean beach, relax with a spa treatment.
Off site activities
Tamarindo offers so much to do. Some more popular activities are; ATV tours, day trips to Palo Verde National Park, zip lining, and of course surfing!
Personally, we suggest spending at least some time soaking up the sun and relaxing on the beach.
It is always possible to book activities directly through Jaren del Eden, but if you would prefer to organize things yourself, here are a few of our favorite activities in the area with transportation from the resort.
Rooms
This resort has 46 guest rooms. Some rooms feature outdoor jacuzzi tubs and all rooms (except the standard rooms) have a balcony or outdoor seating area. All rooms sleep two guests.
Dining
Breakfast and dinner are included in the room rate. Typically the dinner menu offers two options every evening, but they are always happy to accommodate any allergies or dietary preferences.
Everything they serve is always on point.
Casa Chameleon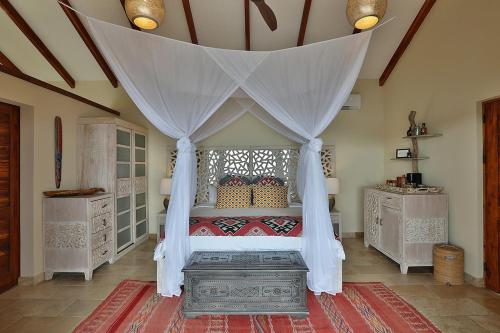 Location
Las Catalinas
Note: Casa Chameleon also has a property located in Mal Pais which is just as amazing. We suggest the Mal Pais location for a more remote experience.
The Vibe
Casa Chameleon has a bit of a boutique hotel vibe combined with the luxury of a resort. There are 21 villas available on the property, which makes it a bit larger than some of the other resorts on this list, but they also have more to offer on the property than some more intimate places.
Amenities
Complimentary high-speed wifi throughout the property
24-hour concierge service
Daily cleaning service
Fully stocked mini-bar
Use of all property features such as the large infinity pool and fitness area.
On-site activities
Relax in your plunge pool, enjoy the large infinity pool with ocean views, take a yoga or fitness class, and enjoy a spa treatment.
Off-site activities
This area is known for having the most beautiful beaches in Costa Rica. We definitely suggest enjoying a day of beach hopping, taking a catamaran tour, going on a fishing trip, or trying out some snorkeling or diving.
Rooms
There are three different room options at this resort. All rooms include a private plunge pool with a balcony.
Dining
Breakfast is included in the room rate.
There is an excellent restaurant, bar, and poolside bar service available. Also, the chef here is seriously amazing.
The Royal Corin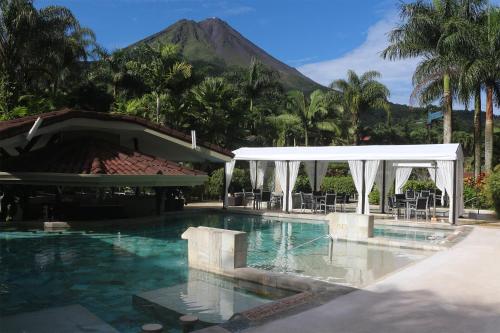 Location
The Vibe
Yes, we know that with so many nice resorts in La Fortuna it can be difficult to choose the perfect one for you. However, this is one of the few adults-only resorts in the area. It is a beautiful property and the staff here really make this the standout place it is.
So, for a honeymoon or romantic getaway, this is a really great option.
Amenities
Free parking
Free WiFi access
Free breakfast
In room safe
Room service
Business services
Conference facilities
Laundry facilities
Sauna with natural thermal water steam
Luxusious Spa
Fresh water pool
2 Hot spring pools
4 Hot spring jacuzzis
2 hot spring jacuzzis with waterfalls
Emperador Restaurant
Three on-site bars
Lobby Bar
24-hour front desk
On site activities
The best thing to do on the property is straight up relaxing. With the number of nice pools and hot springs, it's the perfect jungle resort setting. The spa here also provides excellent massages and treatments.
Off site activities
This area is filled with adventure. You can book activities on your own (or if you have a rental car you can drive to things yourself), and the resort is also always happy to arrange activities for you.
We like visiting the La Fortuna waterfall, going white water rafting, and zip-lining.
Rooms
There are four room design options available here. These sleep two to four guests and range in levels of luxury.
Dining
There are three on-site bars. One is a swim up bar at the pool, one is located in the lobby, and there is also a fifth floor tapas bar with great volcano views.
The on property restaurant serves excellent breakfast, lunch and dinner. The a-la-carte breakfast is included in the room rate.
Transportation
Usually, we suggest renting a car in Costa Rica, but if you are staying at a resort it is most likely not very necessary because you probably won't be doing a ton of exploring.
All the resorts listed above will be happy to arrange transportation for you. However, sometimes it can be pricey. We personally suggest a local private transfer company called Adobe Transfers. You can get a transfer price quote here.
Alternatively, if you would like to rent a car, you can find out more about that and get a 10% discount plus other great perks here.
Adobe Rent-a-Car
10% discount for Costa Rica Vibes readers
Free second driver
0% deductible on Liability Protection Insurance
Excellent customer service
New fleet of well-maintained vehicles
If you are flying into Liberia International Airport and need to get to or from the Liberia International Airport to your resort we highly recommend our favorite family of registered taxi drivers. You can get your price quote from them here.
Our Advice For Adult Only Resorts
Packing
What you choose to pack will depend on the season and exactly where you are going. We suggest checking out our guide to packing for all the details.
Best Season
The dry season in Costa Rica runs from late December until late April. Keep in mind that this is also the busiest and most expensive time of year to visit.
From May until the end of July, resort prices tend to go down a bit. You will likely experience afternoon rainstorms for an hour or two, but besides that, the weather should be decent.
From August to early December the weather is more difficult to predict. You might have some days that are complete washouts. However, you will have your choice of any resort you want.
Check out our guide to the weather by month for more details.
Safety
You should feel very safe in resorts in Costa Rica. However, keep a close eye on your belongings while out and about. We have never had any issues, but petty theft sometimes happens.
Other Things to Note
– We strongly suggest staying at a resort for a few nights and then checking out a few other destinations. Costa Rica is beautiful and has so much to offer. It is always nice to get a taste of the country besides being in a resort.
– Credit cards are accepted everywhere. Costa Rican colones is the main currency in the country, but US dollars are also widely accepted (especially in resorts).
– The main motto for life in Costa Rica is "Pura Vida". This directly translates to "pure life" and in Costa Rica it is used to mean "everything is good. Life is great."
I'm telling you this because I hope everything at your resort stay goes perfectly, but keep in mind that sometimes you just need to relax and enjoy this different culture. People here live in a more relaxed time frame than you may be used to.
– Don't forget to book travel insurance for your trip. This is important not just for injuries and hospital stays that may happen during your trip but also for flight delays, lost luggage, last minute changes of plans due to illness, and more!
Map of Adult Only Resorts
If you have any questions about planning your trip to Costa Rica and enjoying a stay at an adult-only resort, don't hesitate to ask us! We are always happy to help you out. Just leave a comment below and we will get back to you soon.
Costa Rica Travel Details: What You Need to Know
🚗 Should I rent a car in Costa Rica?
Having a rental car will give you the most flexibility when traveling in Costa Rica. This will allow you to visit more off-the-beaten-path destinations and will allow you to take fun day trips on your own.
Save 10% Plus Other Perks with Our Adobe Rental Car Discount
☀️ Should I buy travel insurance for Costa Rica?
Yes, travel insurance is always a good idea. It is not just for illness or injury, but also lost luggage, delayed trips, and more!
We like Heymondo for Costa Rica travel insurance.
✈️ What is the best way to book a flight?
Usually, we have the best luck finding great prices with Skyscanner. Check for flights to both San Jose Airport (SJO) and Liberia Airport (LIR).
🛏️ What is the best way to book my Costa Rica hotels?
We highly suggest Booking.com for hotel bookings and typically use VRBO for Costa Rica vacation rentals.
🗣️What is the main language in Costa Rica?
The main language in Costa Rica is Spanish. Most people working in tourism speak at least some English.
💰 What is the currency in Costa Rica?
The currency used in Costa Rica is the Costa Rican colón (CRC). However, the US dollar is widely accepted in most tourist areas
🌴 Is Costa Rica safe?
Generally, Costa Rica is considered safe for tourists. However, like any travel destination, it's best to use caution and be aware of your surroundings.
🛂 Do you need a passport to go to Costa Rica?
Yes, Costa Rica is its own country. You will need a passport to visit.
Hi! We're Thomas (the German) and Sarah (the US-er)
We met in Virginia, moved to Germany, and since 2016 we have lived in sunny Costa Rica.
It was a spontaneous decision to move here, but it was the best decision!
Now we spend our days roaming the country to bring you the very best in Costa Rica travel here on Costa Rica Vibes.
Sarah is the writer. Thomas is the one keeping it all together.
Want the whole crazy story?

Sarah McArthur
Sarah McArthur is the co-founder and main writer of Costa Rica Vibes.
She is originally from the United States but has lived in sunny San Jose, Costa Rica since 2016. 
She has traveled all over the country and now considers herself a self-proclaimed Costa Rica travel expert. 

Want the whole crazy story?